I AM TERRA, HEAR ME RAWWWWRRRR!!!!!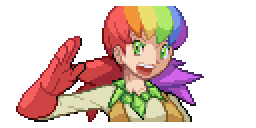 Terra "M3G4T3RR4" Pierce is the fourteenth Gym Leader of the Reborn region, as well as one of the members of the Agate Triumvirate, along with Samson and Ciel. She specializes in the Ground-type and is fought in the Glitch World, where she hands out the Gravity Badge, the twelfth Gym Badge the player receives.
In the game
Edit
Spoiler warning!
This article contains plot details about events that occur later in the game.
Terra is first encountered in Agate City, where she rescues the player, Cain, and a sleeping Aya and Hardy, which she does by means of hitting you over the mountain with her signature giant hammer. At Agate Circus, Terra says that the PULSE which has the city in a sleeping curse is located on top of Ametrine Mountain, before promptly vanishing.
It is later revealed that Terra is part of Team Meteor and in fact lied about the PULSE's location. She gets cornered in Agate Circus and escapes into a computer, after which player is forced to hunt her down and fight her for the Gravity Badge in the Glitch World. After the player defeats her and leaves the Glitch World, Samson turns off and restarts the computer she was in while she was inside.
Terra is from Labradorra City and also has a personal connection with Lin - according to Arclight, as well as a couple that are implied to be Terra's parents, she used to be quiet and shut-in before she joined Agate Circus.
Gym Battle
Edit
Terra is battled on a Glitch Field in a Single Battle format and she has three Ultra Potions.
| | |
| --- | --- |
| | |
| 7392 | |

Held item:

Synthetic Seed

SWAGSIRE

♀

Lv.69
Seen on the Profiles channel after obtaining the Cinder Badge from Charlotte
A special report from... the Investigation Squad!

Yo, Reborn City! What's up?! We're here with the Reborn Rundown giving you a look at the leaders of the Reborn League! I'm your host, DJ Arclight, now on air!

She's hearty, she's hyper, and she's abso-freaking- lutely insane-- Terra, the Ground Gym Leader, is up to play! With a personality like an earthquake and a type to match, anyone who's met her-- is probably traumatized.

However, I wanted to find out what's really behind that energetic persona, so I did some digging to find out. From the records I found, it looks like Terra was a fairly average girl at one point, having been raised in the Beryl Ward. School reports say she was very shy, and seldom socialized, and took a natural interest in computer science. One day, however, she ran away from home for one reason perhaps she only knows...

...and was next known applying for a job at the Agate Circus with her zany energetic persona! Just what happened to her between the time she left home and the time she joined the circus? Call me crazy-- Actually, call her crazy, but I'm not sure I want to find out.

That's all for now, but remember, Trainers, Keep fighting with everything you've got! Hold your spirits high, and even you can defeat the Reborn League!
"FUCK!!! THE WHAT!!!!!!!" -When sending out last Pokemon.
"HOLY WOWSY MR. KRABBY, I AM REALLY FEELING!!!" -After defeat.
Gym battle speech
Pre-battle speech
AH! I HEARD ABOUT YOU, <player>!
I AM T3RR4, THEY CALL ME THE CIEL TAMER.
HAD THAT B!TCh ON HER KNEES,
COVERED IN KETCHUP.
WH4T.
l00k. i aint about that dramatic speech life.
SOOO whaddya want from me
gym badge?
ye?
ye?
polly want a gym badge?
polly want a tragic backstory explaining why i join team meteor?
WELLLLLL IT WAS A LONG TIME AGO
IN A GALAXY NOT VERY FAR AWAY AT ALL
IN FACT IT WAS THIS ONE
THIS GALAXY
RIGHT HERE
THE MILKY TIT
AND SOMETHING TERRIBLE HAPPENED:
I GOT BORED.
so i was like awhh yeaaaa lets cause some ANARCHY
bc anne r. key is great in bed
no but literally chaos is like sex
hot
steamy
sex
aw fuckmonkies, furgot this wuz supposed to be a dramatic scene or somethin'.
...SUDDEN SEGUE TO BATTLE!!!!!!!!!
Post-battle speech
OK NOW LISTEN HERE U PIECE OF SHIFTRY
YOU JUST WON YOURSELF A MOTHERFUCKING GRAVITY BADGE! RAWRRR!!!!!
gravity badge more like grabbity badge nudge nudge grope grope know what imean vern, know what i mean?
HOKAY SO. GRAVITY BADGE MAKES THINGS DO STUFF
STUFF LIKE INCREASED DEFENSES
AND USE WATERRAWR OUTSUDE OF BATTLE
IN OTHER WORDS
because of me you gon' be all wet
cuz ye bb u rly drive my disx
have a disx
THAT TM CONTAINS THE MOVE BULLSHIT
IT CREATES A FIELD OF BULLSHIT THAT LOWERS POKEMON'S SPEED WHEN THEY STEP IN IT
or something
...
why you lookin' at me like that yO
if you like me just tell me, shoty-kun-chan-desu-sama
IM READY TO TAKE YOUR RELATIONSHIP TO THE NEXT LEVEL
MY COUCH IS YOURS SO BE GENTLE
...DON'T YOU WANT MY COUCH?!!?!?
HOW COULD YOU
BAKA BAKA BAKA BAKA RAWR BAKA!!!!!!
Interview
Edit
Seen on the Interviews channel after defeating the Beryl Gym
Gossip Gardevoir's interview intermission!

Hello! Gossip Gardevoir here in Interview Intermission, bringing YOU the inside scoop on Reborn's celebrity figures!

Today, we have a special report with Terra, the Reborn Ground Leader! Terra, can you te-

T3RR4: RAAAAAAAWWWWWWRRR!!!!!!!

GARDEVOIR: I, um, yes. Can yo-

T3RR4: Hi, how you doin', everybody- no, wait, let me do that again! Hey, baby, how YOU doin'? Unh, unh, WHAZZUP REBORN!!!!!!!!!

GARDEVOIR: I hardly think, that this makes for appro-

T3RR4: I'LL TELL YOU WAZZUP. WAZZUP IS ME, TERRAIN' YO NATES ALL DAY LONG.

GARDEVOIR: Terra! Do contain yourself! Honestly, you shouldn't be acting in such a way on public television. Now-

T3RR4: That's not what YO MAMMA said last night!!!

GARDEVOIR: My –what? Are you really-

T3RR4: RAWWRRRRRRRR! THOU SHALT BE SMITEDEST WITH THE MALLET OF ETERNAL DOOM. TERRAAAAA…SMASH!!!!!!!!!! RAAAA----*%@*#(!@%&%......................................................................................

TV: We're sorry, we are currently experiencing some technical difficulties. That's all on today's interview intermission. Until next time!
| | | |
| --- | --- | --- |
| | | |
| Trainer sprite | VS sprite | Overworld sprite |
Terra's name means 'Earth' in Latin.
Terra's name may also be a reference to a "terabyte", which would explain her connection to computers.
All her Pokémon have nicknames based off of her personality. Her Nidoking, however, is nicknamed Giovanni.
When asked about her backstory, she tries to pass off Batman's backstory as her own; before her battle with the player, however, she tries to pass off that of Luke Skywalker as her own.
Terra seems to be unbound by many of the game's in-universe rules, as evidenced by her ability to travel upside down, wield and conceal on her person an unreasonably large hammer and include emoticons and leetspeak in her dialogue.
Community content is available under
CC-BY-SA
unless otherwise noted.