Map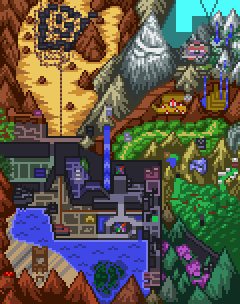 Interactive Map Location of Subseven Sanctum in

Reborn

.
The Subseven Sanctum is a sanctum located in the 7th Street, accessible after the player finds Bennett buying items for the ritual in the 7th Street.
Battles here take place in the Holy Field.
Walkthrough
Places of Interest
Locked Left Room
The left room of the maze can be unlocked by using the Sanctum Key which is the held item of Klefki from The Klefki Sidequest. The room contains Field Note 29 Holy Field, Dark Matter and the color order for the hidden room in the Beryl Library.
Items
Pokémon
  Pokémon  
  Location  
  Levels  
  Rate  




Event Pokémon

| | |
| --- | --- |
| | Event |

30

One

| | |
| --- | --- |
| | Event |

30

One
Pokémon Events and Sidequests
Deino Sidequest
You must have completed the The Klefki Sidequest to obtain specific quest items. Then gather the two other Dark Materials both in Iolia Valley as well as a Soul Candle obtainable from the yellow haired guy on the bottom of 7th Street. Interact with the altar for Deino to appear.
Litwick Event
You can encounter Litwick if you have a soul candle in your bag. Litwick will be encountered on the altar where Luna was bound to.
Trainers
Trainer

Pokémon

Cultist

Brena


Reward: 2028

Cultist

Wes


Reward: 1908

Cultist

Ezra


Reward: 1908

Cultist

Kaidan


Reward: 1908

Cultist

Lyla


Reward: 2106

Cultist

Arcturus


Reward: 1944

Cultist

Tanner


Reward: 1908

Cultist

Angela


Reward: 2106
Layout
| Sanctum Room | Labyrinth Room | Cages Room |
| --- | --- | --- |
| | | |
| Right Books Room | Left Books Room |
| --- | --- |
| | |