Rowlet




Grass Quill Pokémon

#722

Type

Ability

Hidden Ability

Gender ratio

Catch rate

Breeding

Height

Weight

Base experience yield

Leveling rate

EV yield

Total: 1

1
HP
0
Atk
0
Def
0
Sp.Atk
0
Sp.Def
0
Speed

Body style

Footprint

Pokédex color

Base friendship

Cry

On Bulbapedia

Rowlet is a dual-type Grass/Flying type Pokémon. It evolves into Dartrix starting at level 17, which evolves into Decidueye starting at level 34.
It is one of the twenty one Starter Pokémon, able to be chosen at the start of Pokémon Reborn.
Rowlet is a small, avian Pokémon resembling a young owl with a round body and short legs. Its plumage is primarily brown with a white underside and facial disc. The facial disc itself is in the shape of two overlapping circles. It has large black eyes and stubby beak. The top part of its beak is white, while the lower half is an orange-brown. Its feet have two forward-facing toes and one backward facing toe; they are the same color as the lower half of its beak. Two leaves sprout form its chest, arranged so that they resemble a bowtie. Additional leaves line the undersides of its wings and form its tail.
A nocturnal Pokémon, it stores energy during the day through photosynthesis. It approaches opponents by silently gliding, before unleashing a volley of kicks. This Pokémon is able to rotate its head almost 180 degrees, and has excellent night vision.
Availability
| | |
| --- | --- |
| Gift | Starter Pokémon received from Ame |
Held item(s)
| | |
| --- | --- |
| None | This Pokémon cannot be found holding an item. |
Stat

Range

At Lv. 50

At Lv. 100

128 - 175

246 - 340

54 - 117

103 - 229

54 - 117

103 - 229

49 - 112

94 - 218

49 - 112

94 - 218

42 - 103

80 - 201

Minimum stats are calculated with 0 EVs, IVs of 0, and a hindering nature, if applicable. Maximum stats are calculated with 252 EVs, IVs of 31, and a helpful nature, if applicable.
| | |
| --- | --- |
| Under normal battle conditions, this Pokémon is: | |



Level 17


→



Level 34


→
Front

Back

Front shiny

Back shiny
Egg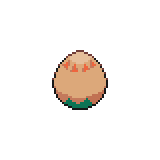 Rowlet is the only starter, so far, that changes its secondary typing upon its final evolution.
Rowlet is the only pre-evolved starter Pokémon with a double weakness.
Rowlet is the lightest starter Pokémon.
Rowlet is tied with Froakie as the smallest unevolved starter Pokémon.
Starter Pokémon
Grass


Bulbasaur

Chikorita

Treeko

Turtwig

Snivy

Chespin

Rowlet
Fire


Charmander

Cyndaquil

Torchic

Chimchar

Tepig

Fennekin

Litten
Water


Squirtle

Totodile

Mudkip

Piplup

Oshawott

Froakie

Popplio
Community content is available under
CC-BY-SA
unless otherwise noted.