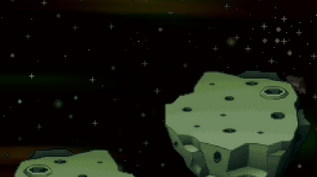 "From darkness, from stardust, from memories of eons passed and visions yet to come..."
The New World is a Field Effect that was released with Episode 16. It cannot be found anywhere in the game as of Episode 18.
General Effects
Grounded Pokémon have their Speed halved
Prevents all weather and generated Field Effects.
All Dark-type attacks increase in base power by 1.5x
Abilities Affected
Pokémon with the ability Multitype or RKS System randomly become a different type at the end of each turn.
Victory Star additionally boosts the bearer's and allies' attacks to x1.5.
Pokémon with Shadow Shield take x0.5 decreased damage
Moves Affected
Moves with a 1.5x increase in base power
Moves with a 2x increase in base power
Other Moves
Transitions to other Fields
Seed
The Magical Seed boosts all stats, but makes the user recharge.
Trivia
This terrain boosts more signature moves than any other terrain.