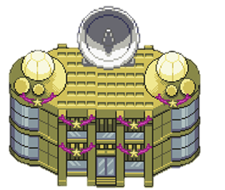 Neo-Circuit is such a LAME name! I officially re-title this place the Electro-Dazzle Happy Boom-Time House of Cheer!
The
Neo-Circuit Power Plant
, located in the
Lower Peridot Ward
, is the first gym in the Reborn League Challenge. Lead by
Julia
, this gym specialises in the
Electric-type
.
Battles here use the Factory Field effect, save for Julia's, which instead uses the Electric Field effect.
The puzzle to the Power Plant is fairly straightforward. (and tailored to Julia's personality) Challengers must navigate past trainers to hyper-charged Voltorbs, who will follow the player to a gate. After they reach the gate... BOOM!
Telecommunicator
Edit
If you interact with the machine to your left as you enter the gym, you'll hear a familiar voice-It's Ame! Ame explains that there all telecoms in all the gyms throughout Reborn, so she can give you advice and track your progress.
Ame
<Player>?

Hey there! So I see you've made it to the gym.

This telecom system connects right to the Grand Hall, so no matter where you are, whenever you get to a gym you can call in for advice!

Anyway...

This is your first gym battle in Reborn, right? Reborn's leaders are a little tougher than other regions'. For instance, every leader has a full team of six Pokémon!

Not only that, but they also use special arenas, called Field Effects, for tactical advantages.

If you want to survive in Reborn, you should get used to learning about and playing in these Fields! You may even find ways to turn some opponents' fields against them!

As for Julia, her Electric Field will make all of her same-type attacks even stronger, and add a jolt to some other attacks like her explosions! It's standard fare, but if you have something that can tank Electric attacks, you're almost home free.

Failing that, your best bet is to come in with a full team, and hopefully some high-HP Pokémon to take the hits while you whittle her down.

Good luck!
Trainer

Pokémon

Techie Johnson




Reward:

176

Techie Bill




Reward:

224

Hotshot Lennon




Reward:

96

Techie Yan




Reward:

224
Gym Leader
Edit
Julia battles on an Electric Field in a Single Battle format and she has two Potions.
Cheer Captain

Julia

Neo-Circuit Power Plant

330
Community content is available under
CC-BY-SA
unless otherwise noted.