The Lost Railcave is a hidden cavern located to the east of the Chrysolia Forest. It can be accessed by going to the bottom right corner of the Forest and approaching the tree blocking the path. It will automatically disappear.
In the game 
This cave is a maze that has a specific path you need to go through to reach the end of the cave. In order to do that, you need to either follow the path without a rail, or you need to go through the two rocks near the path. These lead you to two different rooms. You can restart the puzzle by exiting down.
Eevee Path
From the entrance, you take the following path to get to the Eevee Room: Up, Right, Right, Up, Left, Up, Right, Down, Right, Up. Interact with the Pokéball to acquire Eevee. It will know Yawn, Wish, or Curse as its Egg Move.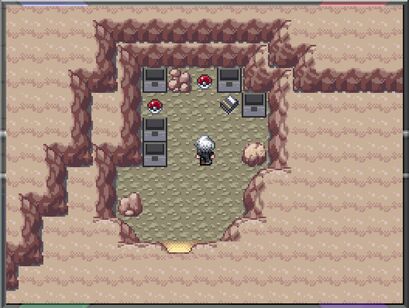 Readout Path
From the entrance, you take the following path to get to the Readout Room: Left, Left, Up, Left, Up, Right, Up, Left, Down, Left.
Captain's Log
In the room where Eevee is located, a logbook of Eevee's previous owner can be also found.
Part 1
Day Unknown.
I've been unsuccessful thus far in navigating this hellish cave. Despite the rails-- Despite the stone markings I've tried to leave-- Despite carefully recording my passages through this place-- I'm baffled. Utterly and completely... I felt relocating here would be a leap towards progress to finding my way home. Instead I feel I've entrenched myself in the prison of this place. 
Progress has once again teased me with her coy seduction. In my continual stumbling through the labyrinth, I found nestled into the wall, a large stone door. Of course, I could not open it. That would be too easy, wouldn't it? Nonetheless, I marked the trail and will return to investigate in the future. With any fortune, I'll make it through soon, as my food stock is lacking. 
Part 2
Day Unknown.
I have yet to be successful in making it through the stone door, wither by clever mechanic, brute force or simply digging beyond it. I don't know what kind of magic seals it. I do know that I am weak. I am thin, and exhausted-- physically, mentally, emotionally. I've clung to hope to reach Orre again for far too long. If anyone finds this-- Please apologize to my girl Snow for me. And her gift-- I would ask someone look after the Pokemon. I will rot away here, but it doesn't need to.
This is Captain Florence, signing out. Good night. 
Pokémon
  Pokémon  
  Location  
  Levels  
  Rate  

| | |
| --- | --- |
| | Cave |

36-41

12%

| | |
| --- | --- |
| | Cave |

37-40

20%

| | |
| --- | --- |
| | Cave |

37-41

10%

| | |
| --- | --- |
| | Cave |

33-44

10%

| | |
| --- | --- |
| | Cave |

35-45

8%

| | |
| --- | --- |
| | Cave |

35-45

25%

| | |
| --- | --- |
| | Cave |

37-40

15%

Special Pokémon

| | |
| --- | --- |
| | Gift |

5

one
Items 
Trivia
This cave is likely a reference to the Lost Cave from FireRed and LeafGreen, both in its name and its mechanics.
It used to be called Mysidia Railcave as a nod to a (now closed) sister community to Reborn.