The field is covered in ice.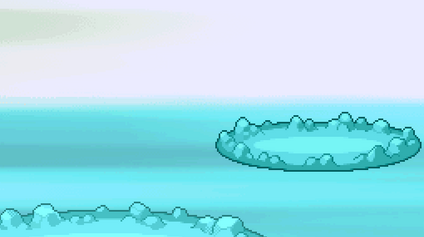 Icy Field is one of the Field Effects. It appears constantly in the caverns of Ametrine, Citrine, and Celestinine mountains.
Transitions from other terrains
Blizzard, Glaciate, and Subzero Slammer will transform a Water Surface or a Murkwater Surface into this terrain.
General Effects
Ice-type attacks have a double chance to freeze and increase in base power x1.5
Fire-type moves decrease in base power x0.5
Burn damage is halved
Hail, whether caused by Hail or Snow Warning, will last for 8 turns
Speed-Boosting Moves
Due to the slippery terrain, grounded Pokémon will increase in speed when using any of the following moves:
Abilities Affected
Moves Affected
Transitions to other terrains
The quake broke up the ice!
Earthquake, Magnitude and Bulldoze will terminate this field effect.
The ice melted away!
The following moves will transform this field into a Water Surface:
Seed
The Elemental Seed boosts Speed two stages.