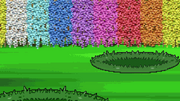 Sentences in bold are used to indicate what's new in each stage.
In Stage 5, Flower Garden has the following effects:
General Effects
Grass moves increase in base power to 2x
Bug moves retain their base power increase from previous stage
Fire moves retain their base power increase from previous stage
Grass-type Pokémon retain their weakness negation from previous stage
Abilities Affected
Moves Affected
Moves that now target both opposing Pokémon in doubles battles rather than just one
Other Moves
Rototiller, Nature Power, Camouflage, Growth, Cut, Flower Shield, Ingrain and Floral Healing retain their changes from previous stages
Petal Dance, Petal Blizzard and Fleur Cannon retain their increase to 1.5x from the previous stage
Infestation will deal 1/3 of the target's max HP per turn rather than 1/8
Sweet Scent will lower targets' Special Defense and Defense in addition to Evasion, and now will triple its effect
Nature Power becomes Petal Blizzard
Secret Power may lower Evasion, Defense, and Special Defense. Secret Power's effectiveness is now doubled.
Transitions to other Field Effects
Cut and X-Scissor reduce the field to Stage 4
Acid Downpour will reduce the field to Stage 1
Moves that will ignite this field in the absence of Rain or Water Sport and turn it into a Burning Field
Seed
The Synthetic Seed boosts Special Defense, applies Ingrain to the user and grows the field by one stage.
Flower Garden
-----Stage 1-----------Stage 2-----------Stage 3-----------Stage 4-----------Stage 5-----