Type

Ability

Hidden Ability

Gender ratio

Catch rate

Breeding

Height

Weight

Base experience yield

Leveling rate

EV yield

Total: 1

0
HP
0
Atk
1
Def
0
Sp.Atk
0
Sp.Def
0
Speed

Body style

Footprint

Pokédex color

Base friendship

Cry

On Bulbapedia

Chespin is a Grass type Pokémon. It evolves into Quilladin starting at level 16, which evolves into Chesnaught starting at level 36.
It is one of the twenty one Starter Pokémon, able to be chosen at the start of Pokémon Reborn.
PhysiologyEdit
Chespin is a bipedal, mammalian Pokémon. It has a light-brown front with dark brown arms and three triangular-shaped markings on its face. There is a tough, green shell covering its back, which extends from its head to halfway down its tail. There is a small, off-center hole in the shell on the back of Chespin's head. The shell can protect Chespin from powerful attacks. Around the face, the shell has four leaf-like spikes, and one split into three parts on the back of its head. These quills are typically soft, but Chespin can stiffen them and use them for attack as well. Chespin's oval eyes are brown, and it has a triangular red nose and rodent-like incisors. Its arms have three fingers, while its feet have two long claws. The visible part of its tapered tail is orange. Despite having a curious nature that tends to get it in trouble, Chespin keeps an optimistic outlook and does not worry about small details.
Game locations
Edit
Availability
| | |
| --- | --- |
| Gift | Starter Pokémon received from Ame |
Held items
Edit
Held item(s)
| | |
| --- | --- |
| None | This Pokémon cannot be found holding an item. |
Base stats
Edit
Stat

Range

At Lv. 50

At Lv. 100

116 - 163

222 - 316

59 - 124

114 - 243

63 - 128

121 - 251

47 - 110

90 - 214

45 - 106

85 - 207

38 - 99

72 - 192

Minimum stats are calculated with 0 EVs, IVs of 0, and a hindering nature, if applicable. Maximum stats are calculated with 252 EVs, IVs of 31, and a helpful nature, if applicable.
Type effectiveness
Edit
| | |
| --- | --- |
| Under normal battle conditions, this Pokémon is: | |
Evolution
Edit



Level 16


→



Level 36


→
Front

Back

Front shiny

Back shiny
Egg Sprite
Edit
Egg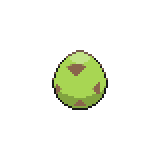 Chespin, (just like the other generation 6 starters) are based off rpg game classes, Chespin is the Knight class
Starter Pokémon
Grass


Bulbasaur

Chikorita

Treeko

Turtwig

Snivy

Chespin

Rowlet

Fire


Charmander

Cyndaquil

Torchic

Chimchar

Tepig

Fennekin

Litten

Water


Squirtle

Totodile

Mudkip

Piplup

Oshawott

Froakie

Popplio
Community content is available under
CC-BY-SA
unless otherwise noted.