The cave echoes dully…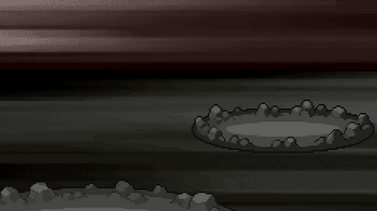 Cave is one of the Field Effects. As expected, it appears in any location that resembles a cave, including the Underground Railnet, Tanzan Depths and caves located in the Rhodocrine Jungle.
Transitions from other terrains
A Dark Crystal Cavern or a Crystal Cavern will transform into a Cave if Earthquake, Bulldoze, Magnitude or Tectonic Rage are used.
A Dragon's Den will transform into this field if Glaciate, Hydro Vortex, or Subzero Slammer is used, or if Muddy Water, Sparkling Aria, Surf, or Oceanic Operetta are used twice.
General Effects
Ground type moves can hit

airborne

Pokémon
Rock type moves increase in base power by 1.5
Flying type moves that do not make contact decrease in base power by 0.5x
Sound-based moves increase in base power by 1.5x
Quake Collapse
Bits of rock fell from the crumbling ceiling! (first use)
The quake collapsed the ceiling! (second use)
After two uses of Earthquake, Magnitude, Bulldoze, Tectonic Rage, or Continental Crush, the cave will collapse. All Pokémon on the field will lose all of their HP, save for the following conditions:
Moves Affected
Transitions to other terrains
Power Gem and Diamond Storm transform this terrain into a Crystal Cavern.
Seed
The Telluric Seed boosts Defense and damages the user with Stealth Rocks.