Map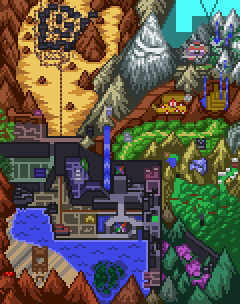 Interactive Map Location of Beryl Cave in

Reborn

.
Beryl Cave is located north of Beryl Ward accessible with Rock Smash. It leads to Rhodochrine Jungle and Teknite Range when you get Rock Climb.
Walkthrough
Items
Item
Location
Flying Gem

1F, Space 2 spots up and 3 spots left from the cave entrance (Hidden)

Burn Heal

1F, Rock rubble on the right side of the cave (Hidden)

Blue Shard

1F, Space 4 spots right and 1 spot down the rock in the top middle of the cave between the 2 ledges (Hidden)
BF2, Rock on the right bellow the up-ladder (Hidden)

Ether

1F, Big rock bottom right side at the left side of the cave (Hidden) 1F, Space bellow the rock top the down-ladder at the left side of the cave (Hidden)

Green Shard

B1F, Rock right the small stairs (Hidden)
B2F, Space up end left the ledge (Hidden)

Awakening

BF1, Space at the corner right from the right cage (Hidden)

Link Stone

B1F, Rock inside the right cage (Hidden)

Great Ball

B1F, Rock rubble bellow the left cage (Hidden)

Rock Incense

B1F, Right from the left cage

Purple Shard

B2F, Rock right from the exit (Hidden)
Pokémon
  Pokémon  
  Location  
  Levels  
  Rate  

28-33

15%

31-35

1%

28-34

30%

30-33

4%

31-35

1%

28-35

15%

28-33

30%

30-33

4%

Event Pokémon

| | |
| --- | --- |
| | Event |

28

one
Pokémon Events and Sidequests
Nidorina
When you go through the cave, you'll see a Nidorina in one of the cages. Open the cage with one of the switches to open it. Show it the Silver Ring from Beryl Gym and it will go with you. If you check the summary of Nidorina, it says the original trainer was Corey.
Layout